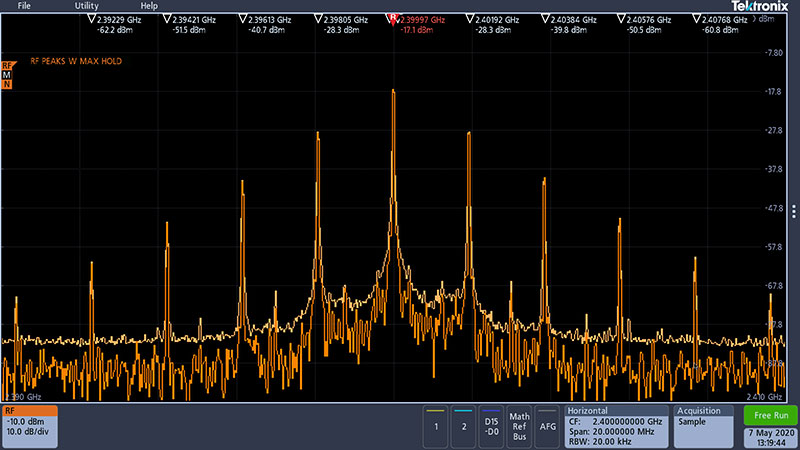 Some firmware releases are mostly bug fixes and minor improvements, but the April 2020 firmware release for the 3 Series MDO is different. It provides a total of 11 major performance enhancements and capabilities, and 7 of these are the focus of this post. They include significant performance improvements, features that were requested by users of the popular MDO3000 Series, and additional value-adding features.
The 7 enhancements covered in this post are:
Up to 85% faster search and analysis
Save on Trigger/Act on Event features added
Up to 8 automated measurements at once, increased from 4
Control pan and zoom with touchscreen 

or

 knobs
AM and FM modulation added to the AFG option
RF peak search table added to the Spectrum Analyzer option
New "Save All" function
The new firmware is available as a free update to any user of the 3 Series MDO. Firmware version 1.8.31 can be downloaded from the TEK.COM firmware library.
While this post focuses on these seven features, the firmware update also includes four more improvements:
Waveform reports include serial number and bandwidth

Programming interface has improved compatibility with the TDS3000 for easier code migration 

LabView and IVI drivers are available for programming support

Full support by Keithley Kickstart test automation software
#1 Measurement Speed Improves by up to 85%!
With the new Linux core and speed optimization implemented in this firmware release, measurement speed is improved by up to 85% compared to previous versions. The biggest time savings are in long record length setups. Here are some benchmarks:

#2 Save on Trigger and Act on Event
This powerful anomaly-catching feature was available on the popular MDO3000 and was requested by 3 Series MDO users.  "Save on Trigger" is part of the "Act on Event" family. Act on Event tells the oscilloscope to perform a specified action after a particular event has occurred. The event can be a trigger condition or a certain number of acquisitions.
The action can be:
Save a waveform or a screen image to a file

Stop acquisition

Send a pulse out the AUX OUT port

Generate a remote interface SRQ

#3 Maximum simultaneous measurements increased from 4 to 8
Get more information faster, with up to 8 automated measurements at the same time.  Just double tap the measurements you would like to add to the list, and up to 8 measurement results will be displayed and updated in real time.

#4 Knobs for pan and zoom control (in addition to touch)
The intuitive touch swipe and pinch interface has not changed with this new firmware. However, we've added the ability to use front-panel "multi-purpose" knobs (A and B) to dial in zoom settings and pan through long records. Fans of the Wave Inspector controls on MDO3000 and MDO4000 oscilloscopes will really appreciate being able to use these knob-based controls. This gives you two choices for navigating through acquisitions – touch or knobs or both.

#5 AM and FM modulation added to internal function generator
The 3 Series MDO offers an optional integrated arbitrary/function generator (AFG). It is useful for simulating signals or adding noise to signals for margin testing. The function generator outputs predefined waveforms, including sine waves up to 50 MHz, as well as square, pulse, ramp/triangle, DC, noise, sin(x)/x (Sinc), Gaussian, Lorentz, exponential rise/fall, haversine and cardiac signals. The new firmware adds the ability to modulate waveforms with AM or FM modulation.  The AFG options is available as a paid upgrade for any 3 Series MDO.

#6 RF peak search table summary can be saved to CSV
With the 3 Series MDO's unique built-in hardware spectrum analyzer, this new capability serves as a "one-touch-save" for your RF tests. For instance, when you are using a near field probe to "sniff" your prototype board for EMI, the 3 Series MDO's automated markers can quickly capture frequency peaks.
All you need to do is to define threshold and excursion values, and the 3 Series will automatically search your entire spectrum and mark all peaks that meet your criteria, enabling you to quickly see each peak's frequency and amplitude.
With the new one-button Save to CSV feature, archiving all the peaks in Excel is a snap. 

#7 Save All option added to save menu
Want to save everything related to your test? The new "Save All" function is the answer. This feature has been available on the MDO3000 Series for years.  Users who've made the switch to the new 3 Series asked us to add this shortcut. It saves waveform, test setup and test results, all with one touch.

Summary:
Version 1.8.31 Firmware is a free update for Tektronix 3 Series MDO customers, with total of 11 enhancements in addition to bug fixes.

Download the newest firmware today from https://www.tek.com/oscilloscope/mdo32-software/3-series-mdo-firmware--v1831 and enjoy the award winning user interface with these all new enhancements added!