与泰克代表实时聊天。 工作时间:上午 9:00 - 下午 5:00(太平洋标准时间)。
电话
致电我们
工作时间:上午9:00-下午5:00(太平洋标准时间)
K1297-G20 Series Protocol Tester
GPRS Software. This product is no longer sold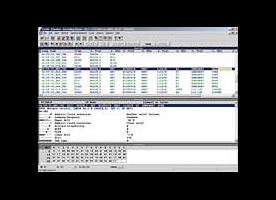 GPRS Software. This product is no longer sold
Features & Benefits
Simultaneous Monitoring on All Gx-interfaces (Ga, Gb, Gc, Gd, Gf, Gi, Gn, Gp, Gr, Gs)
Monitoring on Abis-interfaces (Alcatel, Ericsson, Lucent, Motorola, Nokia, Nortel, Siemens)
GPRS/EDGE support for selected manufacturer proprietary Abis interfaces
Automatic Configuration of GPRS/EDGE Abis-interface channels
Single Call and Transaction Trace on Gb-, Gn-, Gr-, Gc-, Gp-interface
Multi Interface Call Trace on Gb, Gr, Gn/Gp and A interface in case data sessions are interrupted by voice calls
Deciphering on Gb-interface up to a Value of 5000 Users
Monitoring and Analysis of GPRS Sessions and Crucial QoS Parameters at the Gb-interface (GPRS Gb Monitor/Analyzer)
Simulation and Emulation of All Network Elements (BSS, SGSN, GGSN, VLR, HLR)
Simulation of an Entire GPRS Network Switching Subsystem (NSS) Including Internet Access
Traffic Generation Across the GPRS Network for End-to-End Diagnostics
Simulation of up to 100,000 Subscribers (BSS or SGSN) Per Interface Module
Support for Gb over IP (GbIP)
Applications
Network Optimization and Troubleshooting
Functional and Interoperability Testing
Evaluate Delays, Transmission Rates, and Round Trip Time
Conformance Testing
Replace (emulate) a Network Element (e.g., HLR) by a Protocol Tester
Replace (emulate) a Network Subsystem by a Protocol Tester
Capacity Tests for Control- and User Plane
GPRS Software
Tektronix GPRS software offers complete test solutions for functional tests of GPRS network elements, monitoring and analysis of GPRS networks, and end-to-end service quality testing. A combination of monitoring, simulation, and emulation functions, as well as capability of conformance and interoperability testing is provided, chiefly needed during design and installation/deployment of GPRS networks. This also includes monitoring and analysis functions needed during field trials, operation and maintenance, and network optimization.

GPRS reference model.  
Solutions for Network Monitoring and Optimization
Monitoring
GPRS network managers struggle with the difficult problems of network installation, deployment, and optimization. GPRS software for the K1297 consists of all necessary GPRS features and applications that help users overcome their most difficult network issues. They can be carried out in off-line mode and online mode.
Single Interface and Multi Interface Call and Transaction Traces
Single Interface Call and Transaction Traces allow a fast overview about all data and messages related to a call/transaction. This offers fast and easy analysis of subscriber-related problems.
The "Multi Interface Call Trace" application is an expert software that permits tracing calls/sessions in real-time and off-line as they evolve over multiple interfaces.
Simple parameters are used to identify the subscriber (for example, IMSI) and to trigger the search. The call/session is traced even if parameters identifying the subscriber change dynamically during the transactions (such as IMSI, P-TMSI). The call/session is traced even if it spans multiple interfaces (for example Gb, Gr, Gn) and involves different network elements (for example SGSN, HLR, GGSN).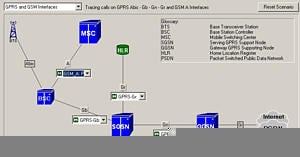 Call Trace User Interface.  
The GUI allows drill-down troubleshooting from the problem symptom to the root cause with just a mouse-click.
The "Overview Window" lists detected calls/sessions and highlights their status (normal, failed) at a glance for quick problem identification, and allows filtering out uninteresting (normal) calls.
The "Arrow Diagram" graphically displays, in a very intuitive way, the message flow (arrows) and network elements (vertical lines) involved in a call/session without requiring a deep protocol knowledge.
The "Detailed Monitor Window" shows all the details of protocol messages and parameters for in-depth troubleshooting of root cause of problems.

Multi Interface Call and Transaction Trace Application.  
Deciphering
GPRS network operators transmit ciphered data between GPRS terminals and the network more often then they previously have. Whenever enciphering is switched on in GPRS networks, all signaling data and payload above the protocol layer Logical Link Control (LLC) are encrypted. K1297-G20 Protocol Testers supply the first deciphering test and observation tools, enabling analysis and processing of all data above the protocol layer LLC.

Deciphering solution - enciphered messages.

Deciphering solution - deciphered messages.  
The GPRS Deciphering application decrypts Control- and User Plane messages on the Gb-Interface not only for GPRS but also for UMTS mobiles (e.g. after an Intersystem Change for PS-Services from UTRAN to GSM BSS). It supports the GPRS Encryption Algorithm-1 and -2 (GEA 1 and GEA-2). In automatic mode the application collects ciphering keys (Kc or CK) from the Gr-Interface (see picture below). In manual mode no access to the Gr-Interface is required. This is a special use case for test labs, where the user can manipulate the ciphering key.

Ciphering Key collection on the Gr Interface.  
RLC/MAC Reassembling
The RLC/MAC reassembling application picks up frames at the GPRS Abis interface that are cut into slices of different sizes depending on the coding scheme and assembles them to the original frame. This comprises LLC frames and RLC control frames.
Benefits of RLC/Mac Monitoring on the Abis-Interface:
Verification of PCU transportation layer implementation (NEM only).
Verification/Observation of Air Interface parameter (e.g. Power level, Receiver sensitivity).
Analysis of faulty behavior related to the Air Interface (e.g. Retransmissions).
Compliance verification of Mobiles and Network (Interoperability).
Automatic Configuration of Abis GPRS/EDGE interface (Siemens)
The GPRS/EDGE Automatic Configuration is an application that guides the technicians in configuring the instrument for Abis monitoring and allows them to reduce overhead time needed for instrument set-up. Once the RSL link on the Abis interface has been identified, the application automatically configures all the necessary logical links containing USER DATA FRAMEs and assigns the proper bandwidth to the logical links.
GPRS Gb Monitor/Analyzer
The GPRS Gb Monitor application provides an extensive overview on the traffic that is actually running on the Gb-interface of a GPRS network. Numerous filter possibilities, including cell ID, IMEI, IMSI, and IP addresses, are available; measuring Quality of Service (QoS) parameters, such as throughput and response time, is easily accomplished.

GPRS G
b
monitor.  
The GPRS Gb Analyzer application, which is placed on top of the GPRS Gb Monitor, provides crucial statistics, detects failed GMM, SM procedures and enables easy and rapid troubleshooting.
Solutions for Active Testing
Simulation/Emulation of GPRS Network Elements
Create and emulate functioning network elements for test purposes. Emulate multiple network elements (NE) in parallel to real NE for complex test scenarios. Compare reaction of emulated to real NE.
Home Location Register Emulation
Replace expensive Home Location Register (HLR) in test networks. Take advantage of features such as fault tolerant reaction and fast reset capability. Parameters are easy to set.
Base Station Subsystem and Mobile Emulation
Emulate thousands of mobiles (MS) on multiple Base Station Subsystems (BSS) with one K1297 Protocol Tester. By emulating MS and BSS, you'll be able to identify Network Switching Subsystem (SGSN, GGSN, HLR, PDN) problems quickly and easily.
Network Switching Subsystem Emulation
Browse the Web with a GPRS mobile and BSS connected to K1297-G20 Protocol Tester, replacing the entire GPRS core network. Find BSS or mobile problems by reducing error possibilities by emulating the complete Network Switching Subsystem (NSS).
Short Message Service Testing
Ensure Short Message Service (SMS) functionality via GPRS Gb- and Gd-interface.
Integrated Test Functions
Integrated test functions in Mobile/Base Station Subsystem provide fast and easy testing and execution of:
GPRS attach/detach
IMSI attach/detach
Combined GPRS/IMSI attach/detach
Location area updates
Routing area updates
Cell reselection
PDP Context activation/modification/deactivation
Transfer of IP data
Paging for CS and PS
Enhanced Test Tools
The enhanced Test Management System enables local and/or remote automated and regression testing with the K1297-G20, reducing manual test time. ISO Standards require change management support; with the "shared file system approach," users can fulfill these requirements and successfully complete regression testing according the ISO standards. Automatically recording files for all test cases provides test results in full detail, down to the bit level, if needed.
Ordering Information
Please refer to the K1297 Protocol Testers for further information.
Please note that besides the following ordering numbers additional packages, upgrades, and off-line software are available.
GPRS Software for K1297-G20 (selection)
7KK1221-6SP11 - K1297-G20 SW Monitoring GPRS; Gb-, Gi-, Gn-, Gs-, Gc-, Gd-, Gf-, Gr-, Ga-interfaces; including Gb Monitor and SMS over GPRS.
7KK1221-6SQ11 - K1297-G20 SW Monitoring for all GSM and GPRS signaling interfaces.
7KK1221-7SP11 - K1297-G20 SW Mon/Sim/Emu GPRS Interfaces; Gb-, Gi-, Gn-, Gs-, Gc-, Gd-, Gf-, Gr-, Ga-interfaces; including SMS over GPRS.
7PK1221-6GF11 - K1297-G20 SW Monitoring GPRS Deciphering; enhancement for 7KK1221-6SP11 or 7KK1221-6SQ11.
7PK1221-6GM11 - GPRS Multi Interface Call Trace for A-, Gb-, Gn- and Gr-Interface.
7PK1221-6JJ11 - K1297-G20 SW Monitoring IP; including NBSS; NBDG; NBNS; NFS; DNS; SMNP; Telnet; FTP; Radius; MIP; IKE and others.
7PK1221-6GX11 - K1297-G20 prot. SW Mon NSIP Package; Network Services over IP (3GPP TS 48.016); Prerequisite: Current System Version (7KK1220-0SC/Dxx) & 7PK1221-6/7GB11.
7PK1221-7GB11 - K1297-G20 Protocol SW Mon/Sim/Emu GPRS Gb; including NS (GSM08.16); BSSGP (GSM08.18); LLC (GSM04.64); SNDCP (GSM04.65); GMM/SM (GSM04.08; TS24.008); Emulation of 240 mobile users.
7KK1223-5GB11 - GPRS Capacity Test Extension Package for up to 100.000 subscribers.
7PK1221-7GX11 - K1297-G20 prot. SW Mon/Sim/Emu GPRS Gb-IP Package; incl. NS (3GPP TS 48.016 ); Prerequisite: Current System Version (7KK1220-0SCxx) & 7PK1221-7GB11.
7PK1221-7GN11 - K1297-G20 SW Mon/Sim/Emu 2.5G and 3G Mobile Gn, Gp, Ga, Iu-PS; GTP (GSM09.60; TS29.060).
7PK1221-7GS11 - K1297-G20 SW Mon/Sim/Emu GPRS Gs; including BSSAP+ (GSM09.18; TS29.018).
7PK1221-7MM11 - K1297-G20 SW Mon/Sim/Emu 2.5G and 3G Mobile MAP; including MAP (GSM09.02; TS29.002) and TCAP 6.x and higher.
7PK1221-7MS11 - K1297-G20 SW Mon/Sim/Emu Mobile SMS; (TS 24.011, TS 23.040, GSM 03.40, GSM 04.11 and IS637 CDMA).
7PK1221-7TP11 - K1297-G20 SW Mon/Sim/Emu Transport Packet Data; including X.25, LAP B, FR, IPv4, ARP/RARP, TCP and UDP, ICMP, IEEE802.3 MAC.