与泰克代表实时聊天。 工作时间:上午 9:00 - 下午 5:00(太平洋标准时间)。
电话
致电我们
工作时间:上午9:00-下午5:00(太平洋标准时间)
TLA700 Series Upgrade Guide
TLA700 Series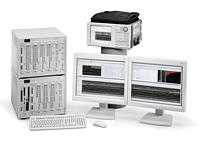 在线阅读:
What's new for the TLA700 Series Tektronix logic analyzers
Hardware
Four new TLA7NAx Series logic analyzer modules offering 125 ps (8 GHz) MagniVu™ acquisition simultaneous with 500 ps (2 GHz) timing and up to 450 MHz State, with up to 128 Mb Record Length.

125 ps (8 GHz) MagniVu™ Timing - acquisition on all channels with 16 Kb record length per channel. Users can view any channel with 125 ps timing resolution to verify digital signal timing. Additional capabilities include adjustable MagniVu sample rate (125 ps to 1 ns), movable trigger position and a separate MagniVu trigger action that can be triggered independent of the main trigger.
500 ps (2 GHz) Timing - acquisition with up to 128 Mb record length on quarter-channels to capture elusive digital signal timing problems over long time spans. 1 GHz timing at up to 64 Mb record length is available on half-channels and 500 MHz timing is provided on all channels at up to 32 Mb record length.
450/235 MHz State - acquisition that enables tracing data flow and program execution of processors and buses. A setup/hold window of 625 ps provides accurate data capture from fast processors and buses. This window position is adjustable in 125 ps increments within a range from –16 ns to +8 ns.
512 kb, 2 Mb, 8 Mb, and 32 Mb Record Length - enables triggering on the symptom of a problem and capturing the cause when widely separated in time. Record length configurations of 512 kb, 2 Mb, 8 Mb, and 32 Mb are available. Using Internal 2X and Internal 4X clocking, all instruments can trade channels for record length for up to 128 Mb record length on quarter-channels (using a 32 Mb instrument).
More Triggering Resources - enable triggering on elusive problems in designs. 16 trigger states, 16 word recognizers, 4 range recognizers, 16 edge/transition recognizers, 2 timer/counter, snapshot recognizer, setup/hold violation triggering, and glitch trigger.

The P69xx Series logic analyzer probes use the new D-Max™ technology that maximizes channel density for the most challenging applications where board space is at a premium. These new probes utilize an industry tested cSpring (cLGA™) attached mechanism that provides a durable, reliable mechanical and electrical connection between the probe and the circuit board. The P6960 probes have a lead set Option 01 that enables general-purpose probing. With industry leading 0.5 pF input capacitance the P69xx probes will minimize probe loading on your signals. When coupled with the iCapture™ capability of a TLA7Axx module, the P69xx probe and module combination provides an oscilloscope with a 2 GHz analog bandwidth high-density probing solution.

P6960 - 34-channel high-density compression logic analyzer probe with D-Max™ technology; single-ended data, differential clock compatible with TLA7Axx and TLA7NAx logic analyzer modules.
P6980 - 34-channel high-density compression logic analyzer probe with D-Max™ technology; differential data/clock compatible with TLA7Axx and TLA7NAx logic analyzer modules.
Software
iLink™ Tool Set – Quickly and easily find and characterize elusive analog and digital problems with the iLink toolset. The iLink toolset includes:

IConnect™ – simultaneous analog and digital acquisition through a single logic analyzer probe.
iView™ – displays automatically time-correlated analog and digital data on a single logic analyzer display.
iVerify™ – enables multi-channel analysis and validation using high-resolution oscilloscope-generated eye diagrams.

Filter/Color – Show, hide, or color data in listing or waveform windows based on Boolean clause definitions (AND and OR) using channel, group, sample, or timestamp values. Capability also supports filtering on disassembly mnemonic values and text values. Filtering process is "filter-on-demand" which saves time when filtering large memory captures. When an acquisition is complete the application only filters what is displayed, instead of making you wait minutes while the entire memory is processed. Then, when the data window is scrolled, it continues to filter what is displayed. Create multiple filter definitions and manager filters within the application. Filter definitions can also be shared across TLA setup files through the "load filter" capability. Filters can also be saved for use later through the "save filter" mechanism. Filter/color capability is fully compatible with TLAVu.
Enhanced Search – More powerful search capability using Boolean clause definitions (AND and OR) using channel, group, sample, timestamp values, or event duration. Capability also supports searching on disassembly mnemonic values, text values, glitches, setup/hold violations, and qualification gaps. Search across multiple data sources using "DataSource1 OR DataSource2" capability. Load/save search definitions. Quickly change between search definitions using drop down menu of most recently used search definitions. Enhanced search capability is fully compatible with TLAVu.
Graph Window – New type of data window added to the "Add Data Window" wizard. Allows graphing of multiple data series. Individual display properties for each series allow users to customize their display by choosing different data point indicators, colors, and line styles. Flexible axis definitions including time, sample number, group value, row/line number, and timestamp. Cursors with readouts and lock cursor/window controls. Marks to locate key data in a graph. Supports normalized data ranges. Works with filtered data so users can remove gaps in data and graph data by filtered sample number. Color grading to graphically represent hit frequency. Zoom controls to allow users to zoom in or zoom out on graph data. Graph window is fully supported with TLAVu.
AutoDeskew – New capability that automates deskew and verification of logic analyzer setup/hold windows. Adjustments can be made per channel. Allows custom clock setups and users can utilize different setup/hold settings for each type of clocking. Setup/hold violation analysis capability allows users to test for violations occurring with current setup/hold settings. Test results display number of violations. Duration of test is user selectable. Users have the ability to automatically convert a test setup to a trigger setup for use by the logic analyzer trigger system. This would allow a user to determine exactly which channels may be failing their setup/hold requirements. This capability works with all TLA600 instruments, TLA7Nx/Px/Qx, and TLA7Axx modules.
iVerify™ – Utilizes a TDS5/6/7000 or CSA7000 oscilloscope to capture eye diagrams for display and analysis on a TLA logic analyzer. Works with TLA7Axx logic analyzer modules. Quickly generate high-resolution eye diagrams for multiple channels. Measurements provided on the logic analyzer include horizontal and vertical histograms, 4-point and 6-point polygon masks (including upper/lower masks), slope measurements, eye-opening measurements, and statistical measurements (min, max, mean, std deviation, peak-to-peak, voltage level, number of hits, eye height, eye width). Supports viewing data in bus form (aggregate) or individual channels. Highlight individual channels in a bus form.
TPI.NET – New remote programming functionality using .NET-programming interfaces. This provides a wider choice of development languages. With .NET, component developers can use any language that supports .NET – VC++, C#, VB, and others. By comparison COM/DCOM component developers were limited to the languages that the TLA explicitly supported, VC++ and VB. .NET also provides increased developer productivity. The .NET development environment is significantly more productive than the current COM development environment. In other words, it is a lot easier for a third party developer to create a .NET component than it is to create a COM component. TPI.NET will provide increased instrument control, including more trigger and setup control, more compare and repetitive control. COM/DCOM will continue to be supported with existing capabilities. No new commands have been added to COM/DCOM support.
Protocol Display Window and Protocol Designer – Protocol Display is a new data window to be added to the "Add Data Window" wizard. Display window provides traditional three-paned protocol view; packet overview, packet decode, and hex data. Filter data on protocol field values. View packet data across multiple protocols. Protocol Designer allows you to define or modify your own protocol and stack definitions.
Multi-language Windows 2000 Professional – Delivered standard with the TLA. This new version of Windows 2000 Professional with Service Pack 3 will allow the Windows graphical user interface to be shown in a native language. Also provides fonts for localized applications. Supports 31 local languages.
Import/Export Channel and Group Definitions – Import from file or export to file channel names and group definitions. Exports to a text file the current LA channel names and groups. Edit this file with the text editor of your choice, and then import the edited channel names and groupings back in from the modified file.
EasySetup Wizard – New wizard to quickly show timing waveforms of your signals. Improve your time-to-data by allowing the logic analyzer to do the setup work for you.
Zoom Immediate – User definable preferences to dictate how click-n-drag zoom box operates. Selections include zoom immediate, display context menu, show rectangle.
DSO Channels have TDS Colors – The default DSO colors in the TLA waveform display will now match those on the TDS oscilloscopes – Ch 1 (yellow), Ch 2 (blue), Ch 3 (green), Ch 4 (magenta).
Microsoft Windows Colors – The color definition for fonts, backgrounds, waveform colors, and other color definitions will now follow the traditional Windows color selection.
LA Setup Toolbar – Streamlined view of logic analyzer setup controls that is organized for faster access to key setup components.
Tools Toolbar and Menu Item – New toolbar dedicated to displaying toolbar buttons for tools. The toolbar contains the same things that are displayed in the new Tools menu of the menu bar. Users can decide to turn this toolbar on or off.
Highlight Channel Names – A new capability to find and highlight channel names in the logic analyzer setup window. This will help users quickly and easily locate channel names among hundreds of names in the setup window.
Rename Channel/Group from Data Window – Use a context menu to select "Rename" directly from the data window instead of having to rename the channel/group from the setup window.
User-defined Default Waveform Height – This will allow users to modify the default waveform height in the waveform display.
Support for LA Status Channels – Provides display of logic analyzer status channels in the listing display. These status channels include trigger state, allowing users to view what state the trigger machine was in when each sample was acquired.
Per Channel Clock and Setup/Hold Violation Definition – Clocking setup parameters are now selectable by channel rather than by group. Program setup/hold violation detectors by channel rather than by group.
Merge Modules with Different State Speeds – Enables merging of modules with different state speeds. When modules with different state speeds are merged, the merged set will operate at the state speed of the module with the slowest state speed setting.
Version 4.4 TLA Application Software – Newest version of TLA700 application software. Version 4.4 requires Windows 2000 Professional with Service Pack 4. Your existing TLA714/715/720/721 can easily be upgraded to Version 4.4 with the appropriate TLA7UP Field Upgrade Kit. Version 1.6 of the PatGen Application Software and PatGenVu are also included.
Version 1.6 PatGen Application Software – Newest version of the TLA7PG2 pattern generator application. Version 1.6 PatGen Application Software is available either as part of the Version 4.4 TLA Application Software or on the Web (primarily for TLA704/711 and TLA714/720 users who have Windows 98 and Version 3.2 TLA Application Software).
Protect Your Investment By Moving Forward with Tektronix
Tektronix is committed to continually introducing new mainframe capabilities, new instrument modules and software features for the TLA family of logic analyzers. The following tables give an overview of the current TLA mainframe capabilities and the current TLA software versions.
Current TLA Mainframe Capabilities
The table below reflects the latest TLA mainframe capabilities:
Characteristic

TLA715

TLA721

CPU Type

Pentium III

Pentium III

Chipset

i815E

i815E

DRAM

512 MB

512 MB

Hard Disk

40 GB Replaceable Standard

40 GB Replaceable Standard

Second Hard Disk Available

Yes - 40 GB Fixed Optional

Yes - 40 GB Fixed Optional

Internal Display Resolution

800x600

None - requires external display

External Display Resolution

1600x1200 with 2 outputs

1600x1200 with 2 outputs

CD-RW

Yes - Internal

Yes - Internal

PC Card Support

32-bit PC Card

Two Type II/One Type III

32-bit PC Card

Two Type II/One Type III

USB Ports

Two

Two

10/100 Mb LAN

Yes

Yes
Current TLA Software Versions
The table below reflects the latest software version numbers for each of the TLA application software components:
| TLA Software Component | TLA Application Software Release |
| --- | --- |
| TLA Application SW | 4.4 |
|    TLA Application | 4.4.075 |
|    TLA7Axx FW | 4.4.005 |
|    TLA7NAx FW | 4.4.005 |
|    TLA7N/P/Qx FW | 4.3.14 |
|    TLA7L/Mx FW | 3.2.1 |
|    TLA7D/Ex FW | 3.1.1 |
|    TLA6xx FW | 4.3.15 |
|    TLA520x FW | 4.4.001 |
|    MF Diagnostics | 4.4075 |
|    Firmware Loader | 4.4075 |
|    TLAScript | 4.4075 |
|    TLASym | 4.4075 |
| TPI Client SW | 4.4075 |
| TLAVu | 4.4075 |
| PatGen App SW | 1.6.011 |
|    PatGen FW | 2.0.1 |
| PPI Client SW | 1.6.011 |
| PatGenVu | 1.6.011 |
| Windows 2000 SP4 | 5.00.2195 |
| Windows 2000 SP3 | N/A |
| Windows 2000 SP2 | N/A |
| Windows 2000 SP1 | N/A |
| Microsoft Windows 98 | N/A |
| Microsoft Windows 95 | N/A |
| QA+Win32 | N/A |
| SnagIt | 7.0.0 |
| Logitech Mouseware | 9.76 |
| CheckIt Utilities | 7.0 |
| NI-488.2 | 2.1 |
| NI-MAX | 2.2.0 |
| RecordNow Max | 4.50 |
| Adobe Reader | 6.0 |
| Flash Player | 6.0.79.0 |
| TLA715/721 BIOS | 1.00.02 |
| TLA714/720 BIOS | 2.03.11 |
| TLA704/711 BIOS | N/A |
| TLA600 BIOS | P9-0009 |
| TLA5000 BIOS | 0040.P16 |
What Upgrades Are Available For My TLA714/715/720/721 Logic Analyzer?
The TLA family of logic analyzers have a variety of upgrade paths to assist you in protecting your TLA investment. The chart below shows you the many ways that you can upgrade your current TLA and refers you to the appropriate section in the remainder of this TLA Upgrade Guide:
New Capability Desired

You Currently Own

Please Refer to Section

Add More DRAM & Larger HDD

TLA714/715/720/721

Add New User Interface and Operating System SW Features

Add New iView External Oscilloscope Capability

Add New Measurement Modules to Existing TLA714/715/720/721 Mainframe

Add New Expansion Mainframe to Existing TLA714/715/720/721 Mainframe

Upgrade Logic Analyzer State Speed or Record Length

TLA7Lx/Mx, TLA7Nx/Px/Qx, TLA7Axx, TLA7NAx

Upgrade Pattern Generator Record Length

TLA7PG2

Utilize TLA Family Software Support Library

   

Latest TLA Family Documentation

Any TLA logic analyzer
Applications Support and Training
Tektronix has a wealth of resources that can help you maximize the utilization of your TLA logic analyzer. In the field, we have a team of applications engineers who you can talk with or have them visit your site to discuss your application, all at no charge. We also have a team of very experienced applications engineers in our Tektronix Technical Support Center that can be reached either by phone or e-mail:
Inside US: 1-800-TEK-WIDE (1-800-835-9433, ext. 2400) (6AM-5PM PST)
Outside US: (503) 627-2400 (6AM-5PM PST)