与泰克代表实时聊天。 工作时间:上午 9:00 - 下午 5:00(太平洋标准时间)。
电话
致电我们
工作时间:上午9:00-下午5:00(太平洋标准时间)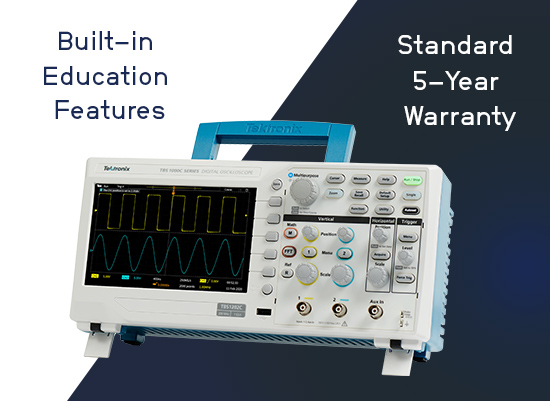 Specifications
All specifications are guaranteed unless noted otherwise. All specifications apply to all models unless noted otherwise.
Model overview
 
TBS1064
TBS1104
TBS1154
Bandwidth 1
60 MHz
100 MHz
150 MHz
Channels
4 
4 
4 
Sample rate on each channel
1.0 GS/s
1.0 GS/s
1.0 GS/s
Record length
2.5k points at all time bases
1Bandwidth is 20 MHz at 2 mV/div
Vertical system — Analog channels
Vertical resolution

8 bits
Input sensitivity range

2 mV to 5 V/div on all models with calibrated fine adjustment
DC gain accuracy

±3%, from 10 mV/div to 5 V/div
Maximum input voltage

300 VRMS CAT II; derated at 20 dB/decade above 100 kHz to 13 Vp-p AC at 3 MHz
Offset range

2 mV to 200 mV/div: ±1.8 V

>200 mV to 5 V/div: ±45 V
Bandwidth limit

20 MHz
Input coupling

AC, DC, GND
Input impedance

1 MΩ in parallel with 20 pF
Vertical zoom

Vertically expand or compress a live or stopped waveform
Horizontal system — Analog channels
Time base range

5 ns to 50 s/div
Time base accuracy

50 ppm
Horizontal zoom

Horizontally expand or compress a live or stopped waveform
Input/Output ports
USB interface

USB host port on front panel supports USB flash drives
USB device port on back of instrument supports connection to PC and all PictBridge®-compatible printers
GPIB interface

Optional
Data storage
Nonvolatile storage

Reference waveform display

2.5K point reference waveforms

Waveform storage without USB flash drive

2.5K point

Maximum USB flash drive size

64 GB

Waveform storage with USB flash drive

96 or more reference waveforms per 8 MB

Setups without USB flash drive

10 front-panel setups

Setups with USB flash drive

4000 or more front-panel setups per 8 MB

Screen images with USB flash drive

128 or more screen images per 8 MB (the number of images depends on file format selected)

Save All with USB flash drive

12 or more Save All operations per 8 MB

A single Save All operation creates 3 to 9 files (setup, image, plus one file for each displayed waveform)
Acquisition system
Acquisition modes

Peak Detect

High-frequency and random glitch capture. Captures glitches as narrow as 12 ns (typical) at all time base settings from 5 μs/div to 50 s/div

Sample

Sample data only

Average

Waveform averaged, selectable: 4, 16, 64, 128 

Single Sequence

Use the Single Sequence button to capture a single triggered acquisition sequence

Roll

At acquisition time base settings of >100 ms/div
Trigger system
External trigger input

Included on all models
Trigger modes

Auto, Normal, Single Sequence
Trigger types

Edge (Rising/Falling)

Conventional level-driven trigger. Positive or negative slope on any channel. Coupling selections: AC, DC, Noise Reject, HF Reject, LF Reject

Video

Trigger on all lines or individual lines, odd/even or all fields from composite video, or broadcast standards (NTSC, PAL, SECAM)

Pulse Width (or Glitch)

Trigger on a pulse width less than, greater than, equal to, or not equal to, a selectable time limit ranging from 33 ns to 10 s
Trigger source

Four channel models: CH1, CH2, CH3, CH4, Ext, Ext/5, AC Line
Trigger view

Displays trigger signal while Trigger View button is depressed.
Trigger signal frequency readout

Provides a frequency readout of the trigger source.
Waveform measurements
Cursors

Types

Amplitude, Time

Measurements

ΔT, 1/ΔT, ΔV
Automatic measurements

Period, Frequency, +Width, –Width, Rise Time, Fall Time, Max, Min, Peak-to-Peak, Mean, RMS, Cycle RMS, Cursor RMS, Duty Cycle, Phase, and Delay
Waveform math
Arithmetic

Add, Subtract, Multiply
Math functions

FFT
FFT

Windows: Hanning, Flat Top, Rectangular
2048 sample points
Sources

CH1 – CH2, CH2 – CH1, CH1 + CH2, CH1 × CH2, CH3 – CH4, CH4 – CH3, CH3 + CH4, CH3 × CH4
Autoset
Autoset menu

Single-button, automatic setup of all channels for vertical, horizontal, and trigger systems, with undo Autoset

Square wave

Single Cycle, Multicycle, Rising or Falling Edge

Sine wave

Single Cycle, Multicycle, FFT Spectrum

Video (NTSC, PAL, SECAM)

Field: All, Odd, or Even
Line: All or Selectable Line Number
Autorange
 

Automatically adjust vertical and/or horizontal oscilloscope settings when probe is moved from point to point, or when the signal exhibits large changes.
Display system
Interpolation

Sin (x)/x
Waveform styles

Dots, vectors
Persistence

Off, 1 s, 2 s, 5 s, infinite
Format

YT and XY
Physical characteristics
Dimensions

Height

158.0 mm (6.22 in)

Width

326.3 mm (12.85 in)

Depth

124.2 in (4.89 in)
Shipping dimensions

Height

266.7 mm (10.5 in)

Width

476.2 mm (18.75 in)

Depth

228.6 mm (9.0 in)
Weight

Instrument only

2.0 kg (4.4 lbs)

... with accessories

2.2 kg (4.9 lbs)
RM2000B rackmount

Width

482.6 mm (19.0 in)

Height

177.8 mm (7.0 in)

Depth

108.0 mm (4.25 in)
Environmental
Temperature

Operating

0 to +50 ºC

Nonoperating

–40 to +71 ºC
Humidity

Operating and nonoperating

Up to 85% RH at or below +40 ºC

Up to 45% RH up to +50 ºC
Altitude

Operating and nonoperating

Up to 3,000 m (9,843 ft.)
Regulatory

Electromagnetic compatibility

Meets Directive 2004/108/EC, EN 61326-2-1 Class A; Australian EMC Framework

Safety

UL61010-1:2004, CSA22.2 No. 61010-1:2004, EN61010-1:2001, IEC61010-1:2001 
} catch (e) { console.log(e); } //END Localized Script Definition Section //Gygia Scritps var gigyaConfig = { errorMessage: 'Sorry an error occurred.', id: 'cn', loggedInRedirectUrl: '', logoutRedirectUrl: '', debugMode: false, authenticated: false, getInfoRequired: false, enableSSOToken: true }; function loadGigya(callback) { $.ajax({ url: "//cdns.us1.gigya.com/js/gigya.js?apiKey=3_IYZagza7TlTgVAPbBL2o3IohZY76BI16h9VaARthfWKZfs4LFhDVRys76qIoh-SN&lang=zh-cn", dataType: "script", async: true, cache: true }).done(function() { console.log("GYA: loaded for zh-cn."); _loadGigyaCMS(callback); }).fail(function() { console.error("E13987: GYA load failed."); }); } function _loadGigyaCMS(callback) { $.ajax({ url: "/scripts/gigya/gigya-cms.min.js?v=9.1.0015646", dataType: "script", async: true, cache: true }).done(function () { if (typeof gigya !== 'undefined') { console.log("GYA: isDefined."); if (window.tekFn.showGigyaLoader) { gigya.accounts.addEventHandlers({ onLogout: window.tekFn.showGigyaLoader }); console.log('GYA: evAdded.'); } typeof callback === 'function' && callback(); } else { console.error('E13984: GYA is undefined'); } }).fail(function () { console.error("E13989: GYA.cms load failed."); }); } window.gigyaConfig ={"lang":"zh-cn","enableSSOToken":true,"sessionExpiration":-1} //END Gygia Scritps }