电话
致电我们
工作时间:上午9:00-下午5:00(太平洋标准时间)
高速串行通信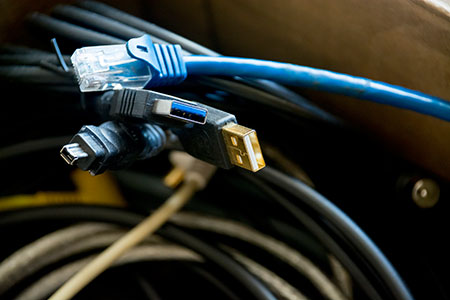 下一代数字接口标准(串行、内存、显示等)会推动如今的一致性和诊断工具的限制,产生高速 Tx 和 Rx 设计挑战,包括:
因设备体积较小而造成的有限信号访问
具有新的节能方案的总线行为
使用信号接口验证新的信号编码和均衡能力
电子验证测试太多,时间太少!
泰克提供的自动测量套件可加快 PHY 验证周期,并保证一致性。当一致性测量未通过时,可使用协议解码、可视化触发等工具来加速调试。在来源中确定抖动和噪声,如串扰或其他多通道噪声耦合。
特色内容
加速 PCIe、SAS、SATA 测试和调试
为了满足下一代数据速率和存储标准,需要使用速度高达 32Gb/s 并兼具当前功能的端到端解决方案。
探索如何加快设计测试和调试。
C 型客户标准
C 型连接器中结合了客户标准 USB 3.1、DisplayPort 1.4 和 Thunderbolt。这转化为新的设计挑战,很难保持低设计成本,同时又兼顾您的缠距具备最佳的电气利润。
探索如何应对这些新挑战。
高速接口标准电子指南
此免费电子指南将帮助您了解有关测试 PCIe 4.0、SAS、SuperSpeed USB 和 DDR4 标准的设计挑战的更多信息。您可以快速访问技术资源,这将帮助您了解设计挑战并选择适合您测试需求的解决方案。


Library
Title
PCI Express®发射机PLL测试 — 不同方法对比
根据使用的测试仪器类型,可以通过多种方法测量PLL环路响应。正如预期的那样,各种方法在测试精度、测试速度(吞吐量)、易用性、设置简便性和购买费用上各有优势和劣势。此外,某些方法存在局限性,不能广泛用于所有类型的PLL。尽管所有方法都可以测试是否满足规范要求,但某些方法为时钟设计人员优化设计提供了额外的实用信息。
检定16G光纤通道速率的SFP+收发机
研究根据16G光纤通道标准测试SFP+收发机所需的测量,同时覆盖多模850 nm接口和单模1310 nm接口。其中包括一个测试和检定实例,采用单模1310 nm激光器SFP+收发机及14.025 Gb/s的16G线速,同时采用一流的测试设备。
高速接口标准
本电子指引将帮助您进一步了解PCIe 4.0、SAS、SuperSpeed USB和DDR4标准测试时面临的设计挑战。在这本电子指引中,您还将快速获得许多技术资源,帮助您了解设计挑战,根据测试需求选择适当的解决方案。
PCI Express Gen5 Automated Multi-Lane Testing
Introduction Comprehensive characterization of high-speed links such as PCI Express® require performing measurements of the Transmitter (Tx) and Receiver (Rx) across multiple …
Needed: New Margin Testing Solution for PCI Express
Introduction As the world continues to progress towards faster and faster data rates, the time and complexity of validating new technologies has risen exponentially. Development bottlenecks resulting …
How the Doubling of Interconnect Bandwidth with PCI Express® 6.0 Impacts IP Electrical Validation
Introduction As a result of the innovations taking place in CPUs, GPUs, accelerators, and switches, the interface in hyperscale datacenters now requires faster data transfers both between compute …
为迎接DVI 一致性测量挑战提供快速高效的解决方案
泰克为您提供了所需的全部DVI测量解决方案,从高带宽数字荧光示波器(DPO)到探头、再到专用软件。泰克解决了许多棘手的测量问题,如抖动和眼图测试,提供了优秀的DVI解决方案,自动完成及简化您的工作。
PCIe Gen5 Flyer
Get an overview of Tektronix's PCIe Gen5 solution for  transmitter testing across x1, x4, x8, or x16 links with flexible test configurations and comprehensive reporting. For full detail see …
USB4 Flyer
Get an overview of our USB4 Transmitter Solution and learn how it can streamline the USB4 compliance testing journey. We designed our solution with custom test environments in mind so that designers …
MIPI Debug and Conformance Testing Challenges and Solutions
Thunderbolt-Configuration
Our flyer describes the components of a Tektronix-based solution for Thunderbolt 3/4 generation 2/3 transmitter or receiver compliance testing.
PCIe 5.0发射机验证
了解PCI Express 5.0的概况、测试以及与之相关的挑战,为您解读泰克PCIe 5.0传输器测试解决方案。
远程探头采集改善高速串行测量
随着高速串行数据速率不断提高,使测量余量达到最大的需求也在提高。即使质量非常好的同轴电缆也会影响测量余量。示波器远程探头提供了明显的优势,可以使信号完整性测量的余量达到最大。
Probing Tips for High Performance Design and Measurement
FIGURE 1. Probe loading is dependent upon the input impedance of the probe and the sensitivity of the circuit to this impedance. When …
Validating MIPI C-PHY Bus Activity
Read our application note on MIPI C-PHY decoding.  After a brief overview of the physical layer and packet structures of C-PHY, you'll learn how to set up decoding, interpret serial bus data, and …
New Method of PCIe Testing Offers Quick Insights
In this application note you will find six ways in which the new TMT4 Margin Tester addressed PCI Express Gen 3 and Gen 4 device test needs with its ability to offer faster, easier, and more cost …
Fast PCIe Rx Insight Using the TMT4 Margin Tester
Introduction Traditional receiver equalization testing is performed using a calibrated oscilloscope and Bit Error Rate Tester (BERT) setup to test the performance of the device under test's (DUT) …
Title
PCIe Gen5 Rx Calibration
Listen as Joey Chiu, Tektronix PCI Express Applications Engineer, discusses PCI Express Gen5 Receiver (Rx) calibration. He covers how to prepare for it, what to expect, troubleshooting, and how to …
USB4 Webinar
View our USB4 Compliance and Characterization Test webinar to learn how you can address the measurement challenges associated with the new USB4 standard.
PCIe Gen6 PAM4 Signaling
Prepare for the next PCI Express inflection point by viewing this discussion of validation requirements for PCI Express Gen6.  We review newly introduced transmitter measurements including SNDR and …
PCI Express Gen 5 Update Webinar
Cloud-based computing power, storage capacity, and network bandwidth have led to the development of the PCI Express 5.0 specification for 32.0 GT/s. This webinar starts with an overview of 5.0 …
Demystify MIPI D-PHY and C-PHY Transmitter and Receiver Physical Layer Test
During this webinar, you'll gain an understanding of MIPI test challenges for both MIPI high-speed physical layers. You'll also get useful tips and technical insights into characterizing and …
Thunderbolt Compliance Test Setup Webinar
View our webinar, Choosing the Best Test Setup for Thunderbolt™️ Compliance Testing, and learn which test setup is best suited for your Thunderbolt 3 and Thunderbolt 4 design. 课件:Choosing the Best …
PCI Express Panel TIF 2022
Watch as experts from Anritsu, Synopsys, and Tektronix participate in a panel discussion on the evolution of SerDes validation. They also offer an overview of the new tools and measurement …
PCIe Gen6 SerDes Webinar
Watch our webinar on the latest Rev 1.0 requirements for validation of a 6.0 capable SerDes design including SNDR and RLM measurements of transmitters and stressed eye calibration for receiver jitter …
HDMI 2.1 Test Challenges
HDMI specification version 2.1 is the most recent update of the HDMI standards and supports a range of higher video resolutions and refresh rates, including 8K60 and 4K120. Watch this presentation …
PCIe Gen5 to Gen6 and Comparison to Electrical Ethernet
Watch as David Bouse explains the evolution of PCI Express from Gen5 to Gen6. Then hear from Pavel Zivny as he and David discuss PAM4 signaling in PCIe and how it compares with PAM4 as applied in …
PCI Express Gen 4 and Gen 5 Transmitter and Receiver Validation
PCI Express I/O bandwidth has doubled every 3 years on average thereby leading to an increased demand for this full duplex high speed bus architecture. As the industry begins deploying the 5.0 …
MIPI C-PHY D-PHY Webinar
MIPI alliance standards have been driving the adoption of newer features and higher data rates for emerging mobile applications.  Oscilloscope-based protocol layer validation enables isolating …
DDR5 Memory Characterization
While they promise to provide datacenters with large amounts of data at faster speeds and lower power consumption, DDR5 memory devices have unique test challenges.  Learn about characterization and …
How to Address Your Toughest Serial Bus Design Challenges with EDA and Measurement Correlation
This Tektronix webinar will teach engineers how to use modeling tools to correlate simulations with high-speed physical layer measurements on Serial Bus Standards using the DPO/MSO70000 Series …
DDR5 Test Challenges Webinar
Learn how you can address five of the thorniest measurement challenges associated with the new DDR5 standard. Get an update on the DDR5 Rx/Tx compliance test and insight in the latest characterization …
PCI Express Gen 5 Reference Clock Webinar
This webinar presents an overview of reference clock jitter requirements as they have evolved and offers techniques for making these low femtosecond measurements using a real time oscilloscope.